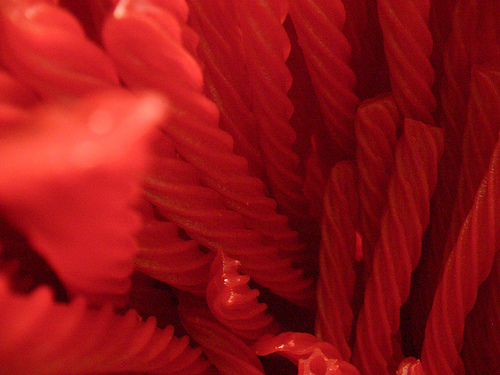 Preceding the Tour by about an hour, there is a raucous parade of sales promotion vehicles flinging free stuff at spectators as a kind of
aperitif
to the racing to follow. I noticed however, that none of the racers get to experience the joy of this spectacle and the tasty treats it has to offer (except for Peter Sagan who routinely rides up from the peloton to the Haribo car to get Gummi Bears and then waits the hour needed for the peloton to catch up).
I was in the back seat of the second Garmin-Sharp vehicle, a tool box fighting my feet for space and several wheels pressing uncomfortably into the side of my head. We were taking it pretty easy, drinking coffee and listening to the action from the front of the peloton. We slowly drifted back as the
autobus
formed. I felt a little sorry for these big men of the Tour, lugging all that fast twitch muscle up and down these steep roads. We got the call to move up to be in better position to support riders, so we began to accelerate around the sprinter's group. I hung out the window offering red vines from a bag to the big men. A few laughed, some ignored me, and then Gorilla Greipel grabbed the whole bag from me. He glared at me, shoved the whole thing in his mouth, bag and all, and then kept his eyes fixed on me as his powerful neck muscles worked his jaws to masticate the entire mass into something he could swallow. That guy is a pure animal.
The sound of Cadel Evans blowing up was heard throughout France. Sad to say, BMC should have unleashed Tejay Van Garderen when he showed just how good his legs were today. Instead of sitting in 5th with Evans and 10th with Van Garderen, Tejay could have moved up while nothing would have kept Evans from slipping to 5th. Rolland showed his mettle today by winning the stage despite having hit the deck during a sketchy display of his lack of descending ability. Sean Kelly of Eurosport was offering to give him descending lessons.
It was a momentous day in the history of the Luna Cycles Big Deal Fantasy Tour de France presented by Uncle Chuck's New School Pregreaser. For the first time, a female
directeur sportif
has moved into a podium spot. Team Don't Call It A Comeback and DS Margi moved into third place overall with a 40 point advantage over Grant Dunstan's La Folie Flyers. Quint Ervin remains in first place by some unknown miracle and his incredible run of beginner's luck has landed him in 80th place in the world.
At this point in the Tour, I've got no idea what is coming next. Nibali and Vandenbrouke talk like they are going to do something, but they are going to have throw caution to the wind. Saturday's stage is the one mentioned the most, but the Sky train is firing on all cylinders and then some.